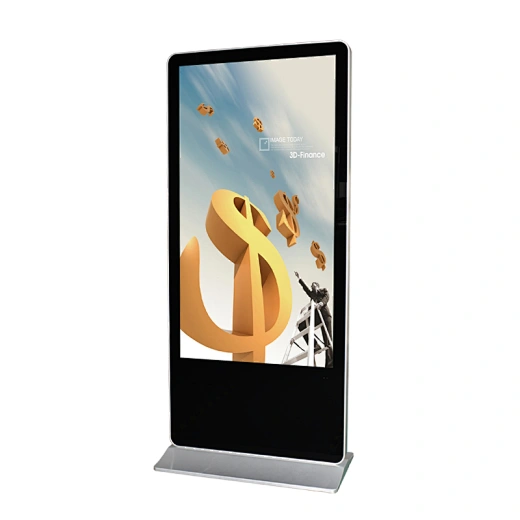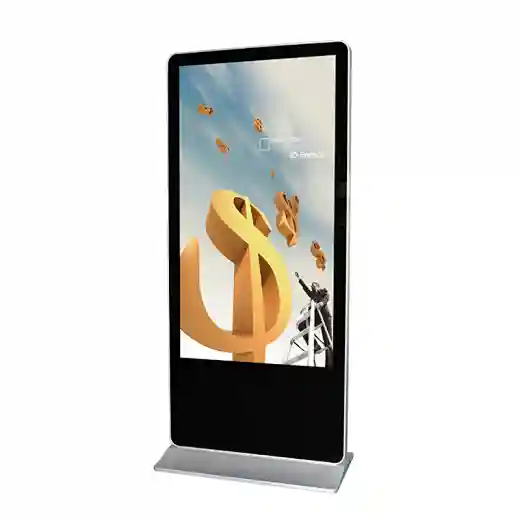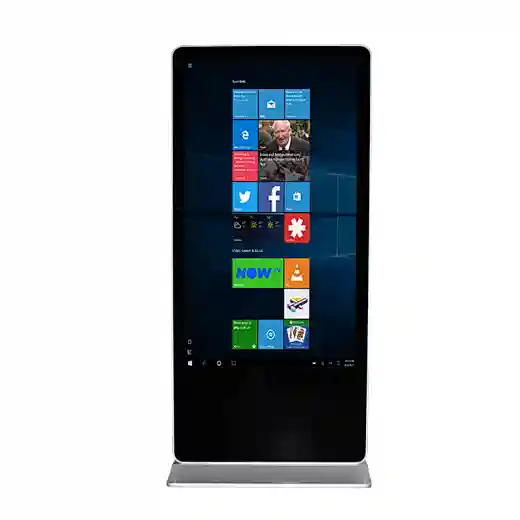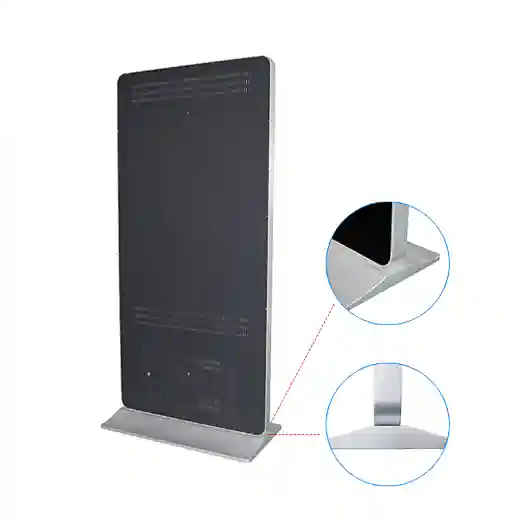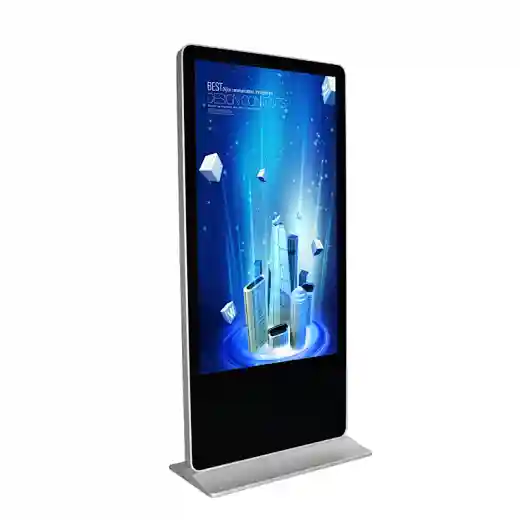 Floor Stand touch screen kiosk
A65-FAD02 Series
Astouch digital signage floor stands include both touchscreens and non-touch advertising screens. We offer both indoor and outdoor displays for
Supply Ability
5000piece / Month
Country of Origin
Shenzhen, Guandong, China

Astouch Merchant Max Kiosk are one of the most noticeable and effective ways to advertise or communicate to your audience. The portability, simplicity and their versatile nature make them suitable for a wide range of applications and can be strategically placed to maximize impact. Our range of easy to install, simple to operate Free standing digital signages are available in a wide range of screen sizes.
Each display can have an Digital signage software for remotely Monitoring System and changing the content. It allows you to check each display's current heath status and easily to control display's brighrness, temperature and fans. And all these controls without you being at the site. You can have all controls via a PC or a smart phone anytime anywhere.
Screen size: 32inch~98inch.

Touch screen optional: IR Touch, PCAP touch, OR touch foil.

Full HD lcd panel, 1920*1080/ 3840*2160 resolution.

High definition LED/LCD displays with wide viewing angles.

Made of tempered glass, providing panel protection and enhances vivid graphics.

All metal housing ensures a long life and protects sign from scratches.

Display digital announcements that are personalized photos.

Drive traffic to your website with QR codes that guests can scan with their smartphones.Updating is fast and easy with pre-designed templates.

Engage your guests with clocks, weather feeds, forecasts, news feeds, and news alerts.

We can customize: The outward appearanceSoftware according to your requirements.

Signage Frame: We can customize the frame according to your requirements.

Frame Colors: Different colors available, normally have black or silver.

Full-function permission settings, user management area or use the functions can be controlled.
Combined with 4K Ultra HD and H.265 technologies deliver a crisp, clear, smooth experience. On-screen real-time page turning and annotation make truly flexible collaboration simply effortless, great viewing experience from any angle and distance.
Having up to 10 touch points allows for a wider variety of applications than ever before. This kind of functionality allows you to manipulate images, zoom in an out as well as perform many other touch gestures; much like you would with a domestic tablet. It also allows for muliple users interacing with the screen at one time.
Improved brightness and contrast as well as improving their lifespan and reducing their power consumption. Unlike other forms of light this technology is mercury free; making it even more eco-friendly. This technology increases the lifespan and reduces the power consumption by aroucnd 30%. 
Free standing advertising players widely used as check-in kiosk, (interactive) informational kiosk, way finding kiosk, lobby kiosk and for surveys and polling, etc.
If you don't want to use the screen's integrated PC yu can attach your own device, using the HDMI or VGA inputs, simply connect your device to the screen, via VGA or HDMI (for the video signal) and USB (for the touch functionality). The screen will then serve as your computer monitor and the touch tunctionality controls the cursor, essentially acting as your mouse. such as a media player or high performance PC.
Built with commercial grade panel and components these displays are designed to run 24/7 in constant use; unlike domestic tablets. The panel also has a lifespan of over 50000 hours of continuous use. They can also be used in landscape or portrait orientation.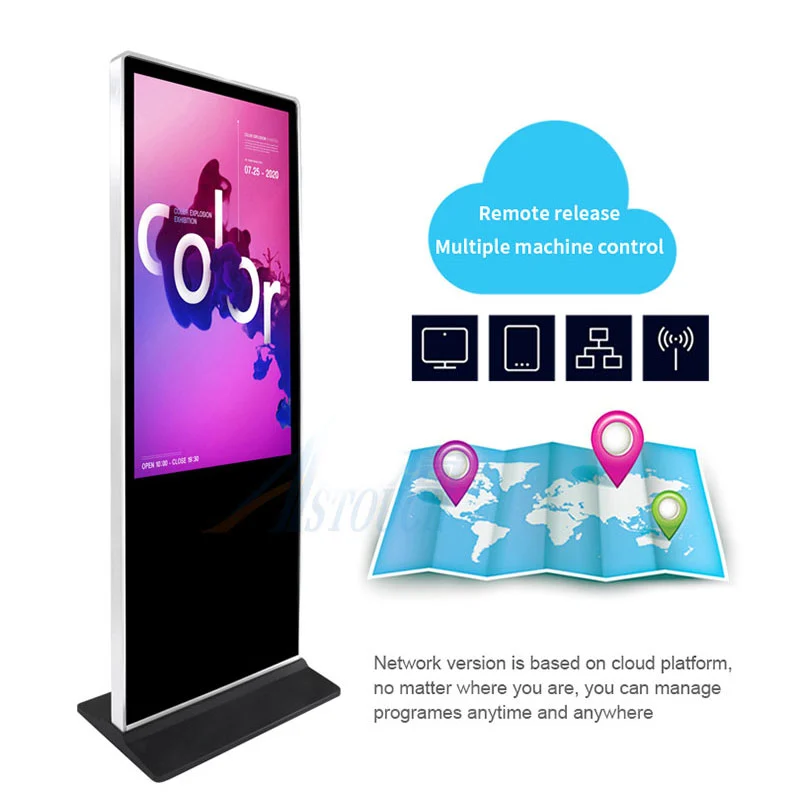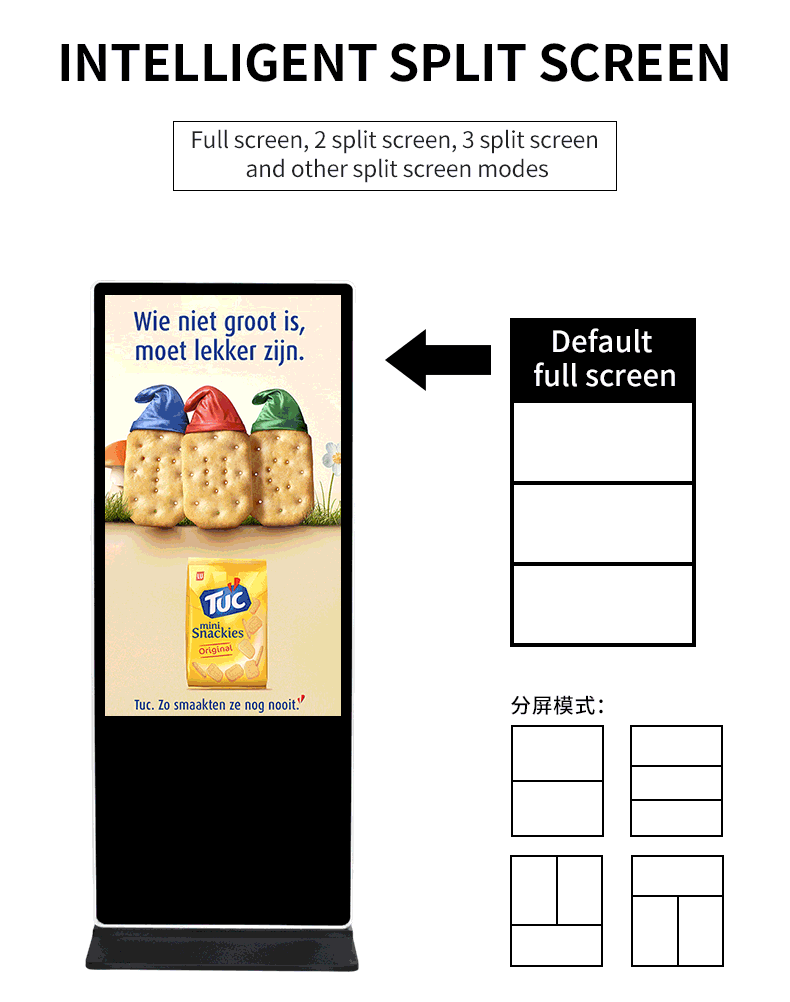 | | | | | |
| --- | --- | --- | --- | --- |
| Panel Size | 43inch | 49inch | | 65inch |
| Resolution | 4K | 4K | 4K | 4K |
| Backlight | LED | LED | LED | LED |
| Multi-touch | 10 points | 10 points | 10 points | 10 points |
| Brightness | 300-2000nits | 300-2000nits | 300-2000nits | 300-2000nits |
| Contrast Ratio | 4000:1 | 4000:1 | 4000:1 | 4000:1 |
| Viewing Angle | 178(H/V) | 178(H/V) | 178(H/V) | 178(H/V) |
| Power Supply | AC 110V-240V, 50HZ/60HZ | AC 110V-240V, 50HZ/60HZ | AC 110V-240V, 50HZ/60HZ | AC 110V-240V, 50HZ/60HZ |
| Response Time | 4-9ms | 4-9ms | 4-9ms | 4-9ms |
| Panel Life | 50,000 Hour | 50,000 Hour | 50,000 Hour | 50,000 Hour |
| Touch Screen | IR touch / PCAP touch (optional) | IR touch / PCAP touch (optional) | IR touch / PCAP touch (optional) | IR touch / PCAP touch (optional) |
System Specs
Standalone Version (no system)

  

VGA HDMI inputs

(no plug and play)

  USB *1, SD *1, HDMI *1 (Support USB plug and play)
Android System
  CPU
  RK3288 / RK3399 / RK3568
  RAM
  2GB / 4GB
  Memory
  8GB / 16GB / 32GB
  Android Version
  7.1 / 11.0 above
  Network
  Wifi / RJ45
Windows System
  CPU
  i3 / i5 / i7
  RAM
  4GB / 8GB
  SSD
  64GB / 128GB / 256GB / 512GB
  Network
  Wifi / RJ45
Where you use this module
| | | | |
| --- | --- | --- | --- |
| | | | |
| Commercial Space  | Super Shop  | Shopping Mall  | Show Room |